Printable Version
DATE: 5/9/13
Contact:
614-255-2527
Ohio State Acres for Wildlife Enhancement (SAFE)
COLUMBUS, Ohio -- May 9, 2013 -- Steve Maurer, the Ohio Farm Service Agency (FSA) State Executive Director, announced today landowners and operators in designated geographical areas throughout Ohio will have the opportunity to offer cropland for enrollment in grassland and wetland practices through the Continuous Conservation Reserve Program under State Acres for Wildlife Enhancement (SAFE). Grasslands and Wetland Complexes SAFE sign-up starts May 13 and will be on a continuous (ongoing) basis in all or portions of the following counties: Adams, Erie, Fulton, Henry, Highland, Lucas, Marion, Ottawa, Pike, Ross, Sandusky, Williams, and Wyandot. See map below for eligible geographic areas.
Grasslands and Wetland Complexes SAFE is aimed at creating conservation practices to address the highest priority wildlife objectives in the State through the use of targeted restoration of vital habitat. Grasslands and Wetland Complexes SAFE seeks to enroll up to 13,900 acres of cropland to benefit:
Threatened and endangered species habitat such as native grasslands and oak savannas;
Habitat for species that have suffered a significant population decline including Karner Blue Butterfly, Frosted Elfin Butterfly, Henslow's Sparrow, Dickcissel, and Copper-Bellied Watersnake; and
Habitat for species that provide significant social or economic value to the community such as Ring-Necked Pheasant, Wood Duck, American Bald Eagle and other migratory shorebirds and song birds attracting bird watchers from afar.
Offers for enrollment in Grasslands and Wetland Complexes SAFE practices may be made at any of the above FSA county offices in which the land is located. Offers are automatically accepted provided the land and producer meet certain eligibility requirements. Offers under this practice are not subject to competitive bidding; however, Ohio is limited to enrollment on a first come, first served basis. The applicant may elect a contract period between 10-15 years. Grasslands and Wetland Complexes SAFE allows the opportunity to enroll whole fields.
Typically SAFE practices receive a Signing Incentive Payment equal to $100 per acre, 50% cost share assistance for eligible practice establishment costs, a Practice Incentive Payment equal to about 40% of eligible establishment costs, and annual rental payments. Annual rental payments are calculated using soil rental rates, which are similar to cash rent rates.
Technical assistance will be provided by Federal, State and private professionals to help participants select proper seed species, locate practice areas, and establish and manage the practice cover. Seed mixes for the practice cover will be specifically designed to attract and benefit species of concern.
For more information on Ohio's Grasslands and Wetland Complexes SAFE project, visit your local FSA county office or go online to read the factsheet at:
www.fsa.usda.gov/oh
.
Grasslands and Wetland Complexes SAFE Map: Focus areas in which Ohio Grasslands and Wetland Complexes SAFE may be applied.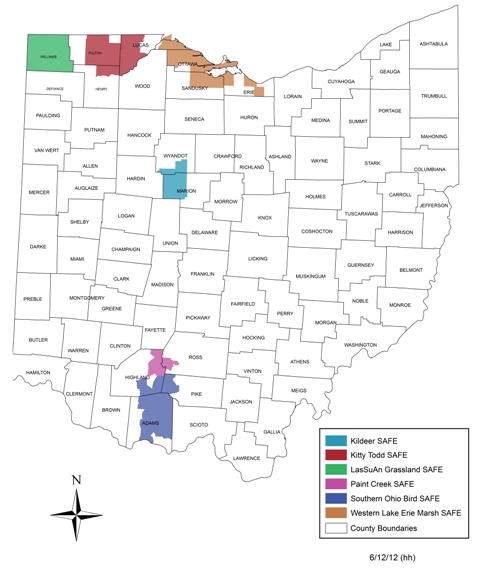 #
USDA is an equal opportunity provider and employer. To file a complaint of discrimination, write: USDA, Office of the Assistant Secretary for Civil Rights, Office of Adjudication, 1400 Independence Ave., SW, Washington, DC 20250-9410 or call (866) 632-9992 (Toll-free Customer Service), (800) 877-8339 (Local or Federal relay), (866) 377-8642 (Relay voice users).