For the latest on 2014 Farm Bill programs administered by FSA, please visit our Farm Bill website at
www.fsa.usda.gov/farmbill
.
For an FSA program overview please read, our recently posted FSA Farm Bill Fact Sheet titled,
What's in the 2014 Farm Bill for Farm Service Agency Customers?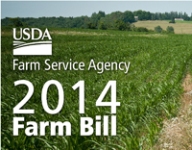 In Ohio, agriculture is a huge industry. One in seven Ohioans are employed in the food and agriculture industry which contributes over $98 billion to the state's economic growth.
Ohio's top commodities include: soybeans, corn, wheat, tomatoes, cucumbers, grapes, Swiss cheese and egg production.


The Farm Service Agency (FSA) provides federal program benefits to Ohio's farmers and producers' in terms of loans for operating and land purchase, commodity price supports, disaster relief, emergency assistance, conservation and other needed agriculture support efforts.
Through these activities, FSA supports the USDA mission and helps ensure a healthful, stable, accessible and affordable food supply. Through these programs, FSA also fosters good land stewardship, which will help preserve our agricultural land for generations to come.
Sincerely,
Steve D. Maurer
State Executive Director, Ohio

Click here
if eGov and Online Business interest you. Contact your local FSA office if you have questions about eGov and Online Business.

Ohio FSA State Committee Members:

May 26 ---- Memorial Day Holiday. FSA Offices Closed.
May 30 ---- Last day to vote on Soybean Request for Referendum.
June 2 ----- Deadline to apply for 2013 commodity loans and LDP's on feed grains, soybeans, pulse crops.
July 4 ------ Independence Day Holiday. FSA Offices Closed.
July 15 ---- Final date to submit 2013 production for ACRE participants.

Continues -- Farm Storage Facility Loan Program.



United States Department of Agriculture
Ohio Farm Service Agency
200 North High St. Room 540
Columbus, OH 43215
(614)255-2441
Office Hours are 8:00-4:30pm EST.