Beginning farmer lays his own foundation
to continue farming tradition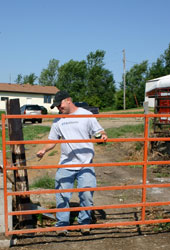 Inwood
, Iowa -- Brian Twedt always knew he wanted to be a farmer. He grew up working on his dad's farm, learning the tools of the trade in the field. He got his introduction to the business side of farming by raising some cattle through the Future Farmers of America (FFA) program. Brian also attended Iowa State University and graduated with a degree in animal science and agronomy.
After graduation Brian landed a job as district sales manager for a feed corn company. With a steady income from his job as well as his lifetime of training, experience and education behind him, he needed one more thing to start the journey towards becoming his own farmer: capital.
"My dad had taken a job with a seed corn company and my uncle was renting his land," Brian said. "I came back from college and I wanted to get back into farming, because that's what I really wanted to do."
Brian was fortunate in that his dad had facilities available on his land for a cattle operation. He looked into borrowing from local banks, but didn't think the terms the bank proposed would work well for him.
"They wanted to tell me when I needed to sell my cattle, or lock them in, and it was taking some of what I consider my job out of it," he said.
Brian had heard about the beginning farmer loans that the Farm Service Agency offered through a friend, so he went in to the local county office and talked to a loan officer. They were able to secure a loan for him, which was funded in March of 2009, with funds made available as part of the 2009 American Recovery and Reinvestment Act.
"It gave me some independence from my dad," he said. "Rather than having to borrow the money and doing everything through him, and then wondering how much he should pay me, now it is my deal."
Using the loan, he was able to purchase 50 head of breeding stock and pay for the costs associated with raising them and their calves. Brian also uses the funds to pay his dad for the use of the land and facilities.
"That's all part of the operating loan," he said. "In the next five years or so, dad wants to be at the point where he can come feed cattle if he wants to, but he can slow down, and I can kinda take things over, that's the plan."
Brian has already faced some of the difficult economic realities of operating a cow-calf operation, when he lost a heifer this spring. He has enjoyed working with the FSA county office and points to purchasing his first 50 cattle as the foundation for his future endeavors.
"I needed to build up some of my own equity, instead of just being able to hop right into the farm, this is the ideal way to do it," he said. "My grandpa farms a couple hundred acres in South Dakota and eventually he wants to stop too, so the opportunity might actually be there for me to do this full time someday, but this was the only way I could really get it started."