Katie Brown, Cow-puncher Extraordinaire; Age 11
ARRA Youth Loan Encourages Young Entrepreneur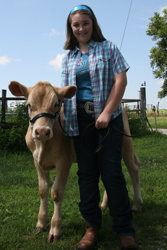 Fort Scott
, Kan. - Waking up every morning at 5 am to feed her bucket calf before school is just a normal part of Katie Brown's day. While most 11-year-olds are still sleeping, Katie wakes up, puts on her boots and tends to her infant calf to feed it its first bottle of milk for the day.
"I love animals and I love raising them," she said. "I have been helping my parents with their cows for as long as I can remember and they are fun and fascinating to me."
Katie is part of a three-generation cattle-breeding family and hopes to continue the family legacy. She and her family operate 700 acres near Fort Scott, Kan., raising primarily limousin cattle for beef. She received her first calf from her grandfather, Shorty Brown, when she was only seven years old and has since successfully raised 12 on her own. When they are mature enough, she takes them to auction, using the profit to pay down her USDA Farm Service Agency (FSA) Rural Youth Loan and invests the remainder in her college savings account.
Katie was approved for her Rural Youth Loan with funds from the American Recovery and Reinvestment Act of 2009 (ARRA). Katie applied for and was approved for $2700 to purchase two cow and calf pairs. This was her second Rural Youth Loan, the first totaled $4500, which she used to purchase three cow and calf pairs, and feed. Having successfully made on-time payments, she was eligible for this second loan amount. Allocation of the funds from ARRA helped expedite her loan request and she was able to quickly purchase her animals for raising and eventual breeding.
Katie receives education and guidance on breeding and raising calves from multiple sources, including her parents and her 4-H counselor. She has been a member of the Pawnee Chapter of the 4-H Club for over five years. Katie takes her role in 4-H very seriously and invests countless hours building her experience and knowledge to hopefully one day become a veterinarian.
"I intend to keep raising cows and learning everything there is to know about this business for years to come," added Katie.
Katie's hard work and early mornings have paid off, having been awarded five different county fair prizes for her calves - three of which were "Best of" ribbons. She is also an avid sportsman, competing in air rifle competitions, and hunts doves and wild turkey with her father and stepbrother.