Missouri Youth Exerts "Show Me" State Tenacity
16-Year-Old Used ARRA Funds to Expand Cattle Business of Backgrounding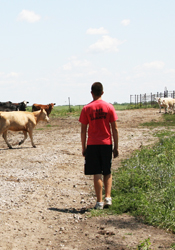 Maysville
, Mo. - While some kids are unsure of what they want to do when they grow up and only work on the farm out of requirement, Michael Strong immediately began applying for Rural Youth Loans through the USDA Farm Service Agency (FSA) as soon as he was old enough. Motivated to continue in the business of backgrounding cattle with his father, Lance, Michael has successfully used three youth loans to generate a college savings account.
"I have been helping my dad with backgrounding cattle for as long as I can remember," said Michael. "I really enjoy it and hope to continue in this business during and after college."
Michael applied for this $5,000 Rural Youth Loan to help him purchase 30 calves, along with his own personal savings, and was told that it could take a few months to be approved. This was expedited with the passing of the American Recovery and Reinvestment Act of 2009 (ARRA), allowing him to quickly make his purchase and begin backgrounding cattle.
Backgrounding cattle is a process in which a newly-weaned calf is sold to a backgrounding operation - these are farmers whose business it is to oversee an approximate 180-day process of proper feeding, watering and tending to any health concerns, ensuring that the cow increases its weight and size to a healthy level for eventual resale.
Michael uses his cattle-sale profits for purchasing feed at the local store and for acquiring additional cattle. He works long hours helping his father background the nearly 150 cows they both share on a nearby pastureland near Maysville, Mo. He also helps his father grow corn, soybeans and wheat that they use to feed their own cattle, before selling whatever is left over.
Michael is a third-generation cattle rancher, raising cross-bred commercial cows. He has already backgrounded and sold 55 cows at auction and through private sale. He is 16 years old and is motivated to continue expanding his own herd size to further build his college savings account. He wants to earn a degree in either agriculture business or health. Michael has significant knowledge in both successfully running his own business backgrounding his own cattle and constantly monitoring their health and well-being.
"Getting this FSA loan was great because it was the only way I could buy more cattle," added Michael. "It allowed me to continue growing my own business and I am considering applying for an ownership loan when I am old enough."