Rancher/Farmer Plans for Family's Future
ARRA Funds Enable Equipment, Chattel Purchases to Launch Family Business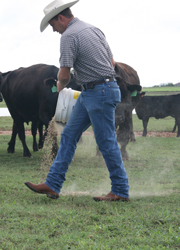 McLoud
, Okla., July 30, 2009 - Steve Burris has always been a strong believer that farms should remain in the family, passed down from generation to generation. His conviction became a reality for his own family recently when his father-in-law decided to retire after 69 years, and to sell Burris the property his family had grown up on and farmed.
"I did not want this farm to just slip away," said Burris. "I did not want it sold to potential land developers so they can flatten it out and demolish the importance it has for my wife's family."
Burris decided to apply at his local USDA Farm Service Agency (FSA) county office in McLoud, Okla., for both a Beginning Farmer and Rancher Direct Operating Loan (DOL) and Ownership Loan (OL). Told that he would probably have to wait months for either of the loans to be approved and funded, this quickly changed with the passage of the American Recovery and Reinvestment Act of 2009 (ARRA). He received a phone call in March 2009 that his DOL was approved and the funding was expedited in less than five days.
Burris' DOL for $143,000 helped him purchase the existing farm equipment, including a tractor and creep feeder, from his father-in-law and to pay off the remaining debt he held on the farm equipment he already owned. He purchased 65 cows from a private seller in a neighboring town and the loan allowed him to use some of his personal savings to purchase feed, and fertilizer for his winter wheat crop from a local vender.
"Without this loan, I just would not have been able to make the necessary purchases to operate this land," added Burris. "Local banks required a down payment of 20 percent, which is just not feasible for me financially. This loan through FSA did not have the same requirements, the paperwork was painless and I immediately received the funding to move forward."
Burris received additional good news that his OL application for $130,000 was approved in late July with the passage of a congressional supplemental appropriation's bill. The bill provides an additional $760 million in available funding for FSA loans. He now has the resources to purchase the farm's existing home and 55 acres from his father-in-law.
Burris was a high school agricultural education instructor for seven years, having earned his bachelors degree in agriculture science from Oklahoma State University. He is happy to be more involved in daily farming and splits his time breeding cattle with his wife Kathy and four children, and working as an agent for the local Farmer's Insurance Group office.
"My wife and I are not doing this just for us," concluded Burris. "We are doing this so our kids have the perfect place to take over from us one day."