ARRA Funded Loan Keeps Cattle Ranching a Family Tradition
Missourian Says FSA Loans Keep Business Plan on Track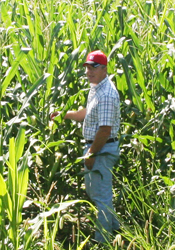 Winston
, Mo. - Christopher Hiley created a list in early 2009 of the farm equipment and supplies he needed to keep his farm operating smoothly. His yearly cash rent payment was coming due to his landlord so he decided that applying for a USDA Farm Service Agency (FSA) Direct Operating Loan (DOL) would provide him the financial flexibility to get everything done.
"I would not have been able to make my lease payment without this loan," said Hiley. "Without the land, I would not be able to raise my cattle and would have faced losing everything."
This DOL for $25,000 was Hiley's third since he began participating in FSA's loan programs. He was originally told his loan could take months to be approved and funded, but that all changed with a phone call in March 2009. He learned that his loan was approved and the funding would be expedited within the week. The reason for the good news was the passage of the American Recovery and Reinvestment Act of 2009 (ARRA), which allowed FSA to immediately fund a growing backlog of loan requests.
Hiley was not only able to make his cash rent payment, he was also able to purchase critical farming equipment from his local dealer, specialty tools and hardware from his local hardware store, a sufficient supply of feed from his local feed supply store and get his fuel tanks filled from his local supplier. Hiley fulfilled every need on his checklist and consequently invested many of the funds back into his local economy.
Hiley is a fourth-generation farmer who learned everything he knows about raising cattle from his grandfather. Hiley leases 400 acres of pastureland for his herd of 100 Angus cows and an additional 100 acres for growing corn and soybeans to feed his cattle. He leases the same land he helped the landlord operate for years before signing a lease to take it over. He even bought his landlord's original herd. He hopes one day to possibly buy this property with an FSA ownership loan or to buy a comparable farm to raise his three children with his wife Kimberly.
He intends to use the profit from selling his calves at local auction, and through private sale, to eventually buy his own farm and to purchase a second tractor for haying. Hiley has his eyes set on further expansion, encouraged by the fact that this DOL made sure for now he stays profitable.
"FSA's loan programs are fantastic," added Hiley. "I try to educate my neighbors and friends about these loans who do not understand how beneficial they are. They allow me to continue in farming, which is the exact lifestyle I want my kids to grow up in."