Seventeen year old High School Senior Sisters
Show Several Super Sheep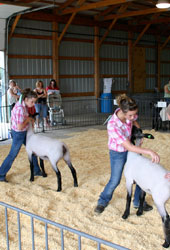 New Ulm, Minn. - Solid determination, a strong work ethic and pride in a job well done are just a few of the things sisters Jazmyne and Chantel Miller will have gained this summer due in part to USDA's Farm Service Agency youth loan program, when they head back for their senior year of high school.
The 17-year-old twins have been raising and showing sheep since the age of three. Most recently, each of them used a $1,200 FSA youth loan to purchase four lambs, which they raised and are now showing at fairs and sheep shows. Their loans were funded in March of this year by funds made available through the 2009 American Recovery and Reinvestment Act.

A typical day has the sisters up at the crack of dawn, feeding the sheep for the first of what will be four times that day.
"We wake up at 6:30 a.m. to feed them. Every other day we run them in the morning," said Chantel. "We take them to the end of the driveway, let them loose, and they'll run back to the barn. We chase after them so they'll get more muscle in the butt."
The sheep are fed again around 10:30 a.m., 2:30 p.m. and one final time in the evening. Between feedings, the girls work with their sheep, training them to be handled in the show ring. During the school year the girls' mother, Jolene Miller, helps out with the feeding of the sheep. Once home from school, the sisters work and run them in the afternoon and evenings.
"We set them up and walk them around, so they know what to do and they get used to being handled," said Jazmyne.
"We're working with the sheep 24-7. That's what we do with the majority of our time," said Chantel. "That's mostly what we like, but we also have pigs."
On Sundays, both the girls and the sheep get a rest from working and running, but the sheep still need to be fed.

The responsibility of receiving and then paying off a loan is just one of the benefits both girls have gained through the FSA youth loan process. After the lambs are purchased in April, they are nurtured through the spring and into summer when they are exhibited at the county fair and other animal shows.
While some shows offer ribbons and recognition as a reward for raising a prize lamb, the girls also show their sheep at "jackpot shows," where the winner in each weight class receives a cash prize.
"We work a lot to pay off the loans – painting barns, mowing loans, going to jackpot shows," said Jazmyne. "We want to pay it back right away so we don't need to worry about it."
The twins work together each day and say they get along with each other well as they raise and nurture the lambs. Their older sister and younger brother also raise sheep with them on the farm.
"But when it comes to the ring and we're doing showmanship it gets pretty competitive, because we want to beat each other," said Jazmyne.
Most recently at the Brown County fair in Minnesota this month, Chantel won overall champion in the 4-H market lamb division and overall champion for showmanship, while Jazmyne took second place in both of those divisions and won the overall champion for the Future Farmers of America (FFA) division.
Joe Hobbs, who manages wean-to-finish hog sites in neighboring Iowa, was the judge for the lamb show. He evaluates the muscle shape and volume of the lambs, along with their width and overall structure to select the best of the best. He explained that the winners he selects must meet commercial production standards and then go above and beyond that and have some extra show ring appeal and presence.
While raising and identifying traits of quality livestock is certainly a primary objective, Hobbs sees other benefits in students who raise and show animals as well.
"The biggest thing is no matter how they choose to apply it, throughout their lives, whether in the sheep or animal livestock industry, or something completely different from agriculture, work ethic is number one," Hobbs said. "Number two is the ability and desire to work with others. Both people that you choose to work with, as well as people that you in some cases are forced to work with, to make sure that those working relationships can still be positive ones."
After high school, Jazmyne and Chantel hope to attend college nearby in Mankato, Minn., to pursue studies in the agricultural field.
"I want to stay in something with animals, I'm still figuring out what I want to do," said Jazmyne. "I know it will be agriculture related and I know I want to work with animals."
The youth loan program and the 4-H and FFA projects associated with it have been a positive and enriching experience for both of the twins. They hope to stay active in those organizations in the future, mentoring other students in the programs that they enjoyed themselves.
"I think it's given us confidence that we can get this work done. When we succeed, it gives us determination to do more," said Chantel.
For more information on FSA youth loan programs, contact your local FSA county office.